Message From The Superintendent – Dr. James Pedersen
BACKGROUND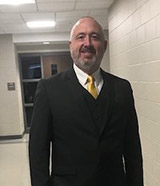 Dr. James Pedersen
received his undergraduate degree in English and Education from New Jersey City University where he also later went on to complete one Master's Degree in Special Education and another Educational Leadership. He completed his doctoral work at Seton Hall University in K-12 Administration.
Dr. James Pedersen started his career in education in Jersey City at Regional Day School. He then went on to teach English for the East Orange School District at Clifford J. Scott High School where he received Teacher of The Year award. Dr. Pedersen then became a high school assistant principal at East Orange Campus High School. He left East Orange School District to become the principal of South Plainfield High School.
Dr. Pedersen has taught at the post-secondary level at New Jersey City University, Felician College, Hudson County Community College, Essex County Community College and Passaic County Community College. Dr. Pedersen is the author of several articles and two books focusing on education.
SUPERINTENDENT'S MESSAGE
I am extremely happy to be a part of the Essex County Schools of Technology District Team and look forward to working with you in serving our students.
I am aware of the high expectations of the district as well as the reputation for its talented students and teaching staff. It is my intent to continue this tradition of excellence as we move forward with exciting new programs that will only serve to shine a light on the excellence found in the Essex County Schools of Technology.
As a district, we can be proud of the many accomplishments which include:
Three nationally recognized Blue-Ribbon schools: Bloomfield Tech (twice), Newark Tech and West Caldwell Tech
Two New Jersey Title 1 Distinguished Schools, Bloomfield Tech and Newark Tech
Two Silver medal schools, Bloomfield Tech and West Caldwell Tech and two Bronze medal schools, Newark Tech and North 13th St Tech in the 2018 national high school ranking by U S News and World Report
Two schools, North 13th St and Bloomfield Tech in the top 50 New Jersey high schools based on the 2016-17 summative rating
Dual credit courses offered through partnership with Essex County College at no cost to students
Associates Degree program with Essex County College at no cost to students
Increased in enrollment AP courses with up to ten courses offered in 2017-18
Improved student performance on standardized tests and their readiness for success in college
Revitalized Career and Technical Education programs that earn students Industry Valued Credentials
I appreciate your feedback and look forward to working with all of you as we find new and innovative initiatives for our students as we prepare them for their futures.
Respectfully,
Dr. James M. Pedersen
Superintendent of Schools