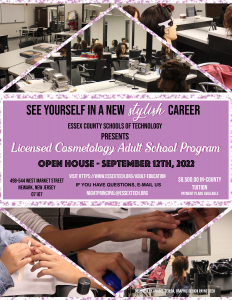 Our Mission:
The Essex County Schools of Technology Adult School provides all adult students with accessible, high-quality educational opportunities to empower them with the knowledge and skills necessary to achieve their academic, career, and personal goals.
Adult Basic Skills – GED and English as Second Language Program
We offer adults the opportunity to upgrade basic skills, become literate and obtain the knowledge and skills necessary for employment and self-sufficiency. Our goal is to help adults become full partners in the educational development of their children and complete a secondary school education with sufficient skills and knowledge to succeed in postsecondary education.
High School Equivalency (Formerly GED)
The HSE program provides adults who did not complete a formal high-school program the opportunity to obtain a High School Diploma issued by the State of New Jersey Department of Education. Students will participate in reading, writing, math, social studies, and science classes with our highly qualified teachers. Our job is to prepare our students to take the HiSET assessment to earn their high school diploma.
English as Second Language (ESL)
The ESL program helps adults whose first language is not English to improve their English speaking, reading, and writing skills. Students will have opportunities to gain computer skills, work readiness skills, enroll in college, and prepare for career training or employment opportunities. Students may also choose to prepare for the US citizenship test.
Trade Programs
Not sure which trade is right for you? Explore various trades while also advancing your academic skills. Trades include Plumbing Apprenticeship, Cosmetology, Carpentry, Electrical & Welding.