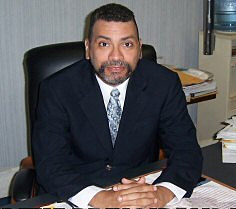 I am proud and honored to tell people who visit Bloomfield Tech that I am an alumnus of Bloomfield Tech's Class of 1981. I would like to take this opportunity to introduce you to Bloomfield Tech and its rich history and the many great things that are taking place at our school. I am pleased that each year many students make the important decision to attend our school and receive an excellent education. Bloomfield Tech offers students a fine mix of academic and career and technical courses which will prepare them to become members of the global community.
Students have the option to join several organized clubs such as STAND Club, DECA, student council, National Honor Society and our Bloomfield Tech Green Club. Students also have the opportunity to represent the Spartans by participating in our athletic programs which consist of basketball, volleyball, soccer, softball and baseball. Bloomfield Tech's athletic teams are well known across the state, especially our boy's and girl's basketball teams which have participated in recent NJISSA Tournament of Champions finals. Our Boys' Varsity Baseball and Girl's Varsity Volleyball teams have recently been named Division Champions in their respective conferences.
The Bloomfield Tech Campus of the Essex County Vocational Technical Schools was recognized as a 2009 National Blue Ribbon School by the United States Department of Education. This great honor was bestowed upon a total of only 323 schools across the nation and to only nine schools in the state of New Jersey. The entire Bloomfield Tech community was proud to be recognized with this great achievement and understand that it is a stepping stone to greater opportunities. The award represents a culmination of the years of hard work and dedication by each member of the Bloomfield Tech family.
Bloomfield Tech continues to meet the mandates of the No Child Left Behind law by meeting its yearly goals and has made adequate yearly progress for the past seven consecutive years. The meeting of goals has been accomplished through the continued hard work of dedicated teachers, students, parents, support staff and administrators. With continued hard work by all concerned parties we will continue to meet our goals in the future. Go Spartans!
Eric Love, Principal
Bloomfield Tech Class of 1981