November
Mr. Ed Finnis
Ed Finnis is married to Lisa Finnis, who is a High School Guidance Counselor. He has been married for twenty four years and resides in Randolph, New Jersey. He has two children, a son who is a fifteen year old HS student and a daughter whom is twenty one and a junior at The College of New Jersey.
Mr. Finnis spent thirty five years in the automotive industry in a variety of positions, including a service station owner for twenty of those years.
He is in his third year teaching at Newark Tech and was certified through the New Jersey Alternate Route Program.
October
Mr. Brandon McCune
Brandon McCune has been the Music Production at Newark Tech for the past 8 years. Originally from Chicago, he attended The Mason Gross School of the Arts at Rutgers University, where he received his Degree in Jazz Studies. After years of touring, this Grammy Nominated Jazz pianist and arranger decided to bring those experiences to the classroom in hopes of inspiring the next generation of artists.
September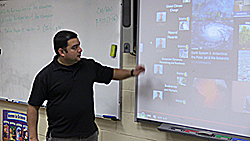 Mr. Angel Gonzalez
Angel Gonzalez has been teaching for the Essex County Vocational School District for 9 years. Previously, he worked in the environmental safety/hazmat/industry, after graduating from Montclair State University with B.S. in Geoscience, and also receiving an M.S.M in Management from Thomas Edison State College. Mr. Gonzalez has also been an avid coach for high school wrestling and softball, and currently coaches wrestling for elementary students. Mr. Gonzalez is dedicated to his passions and career, and strives for excellence in all areas of his life.