West Caldwell Tech
On December 9th, The West Caldwell Tech Agricultural Science Program were notified that they were approved to receive a Traditional Honey Bee Hive Grant from The Bee Cause Project and Whole Kids Foundation. The Grant is for a Traditional Top Bar Bee Hive, Hive Maintenance Equipment, and Instructional Curriculum valued at $1500.00. This Beekeeping Project will be used to educate students about bees, beekeeping, and the effort to increase the bee / plant pollinator population in the United States. Beekeeping will be an additional skill for our Agriculture Science / Animal Science Program at West Caldwell Tech.
**********
On December 13th Mr. Beckett and West Caldwell Tech's Performing Arts students performed at the Turtle Back Zoo's Holiday Lights Spectacular.
**********
On December 29th West Caldwell Tech's Boys Basketball team won the North Jersey Tech Holiday Tournament.
**********
Ms. Atfield and West Caldwell Tech's Culinary Department placed 3rd at the 12th Annual Sustainable Homes & Habitats Gingerbread House Contest.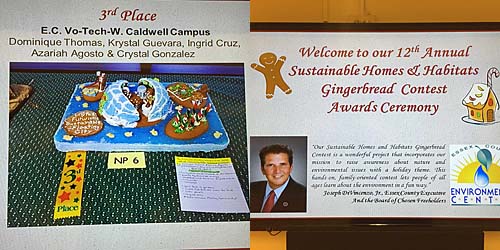 **********
The 2016 County Consumer Bowl Competition was held at West Caldwell Tech on February 11, 2016. West Caldwell Tech students came in 2nd place.
**********
WCT's Performing Arts students' production of All for the Soul held on Saturday, February 20, 2016 was a huge success. The event raised $2,300 that will go towards the Performing Arts Washington DC field trip scheduled for May.
**********
West Caldwell Tech has been recognized by the New Jersey Department as a designated 2016 New Jersey Green Ribbon School.
**********
Mr. Beckett's Performing Arts students performed at the dedication of the Dr. Martin Luther King, Jr. stature at the Essex County Courthouse.
**********
A new Computer Science Program is being introduced into WC this school year.
**********
Dan Delcher, Agriscience teacher, placed 2nd in the Advisor's Fresh Arrangement category of the 2014 State FFA Horticulture and Floral Design competition.